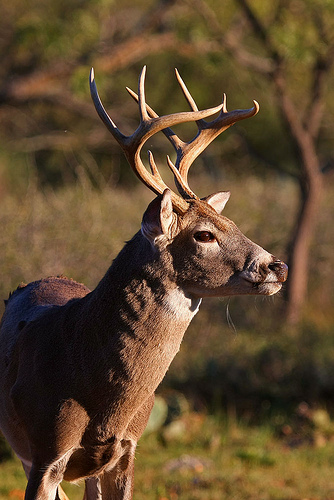 I talked a little bit about the job hunt a few days ago and what I thought I'd like to do for part time work, but today I'm going to discuss where to find that perfect job.
We know the purpose of the search and are beginning with the end in mind, which is the first step in success according to Stephen Covey's: The 7 Habits of Highly Effective People
. If you don't know what kind of job you're searching for it's much like running around like a chicken with their head cut off. You're not going to get very far.
After really considering your ideal job the next step is to discover where that job is located and researching more about the companies that offer this type of job. My honest opinion is that you should focus on finding the perfect company or business first rather than sit on careerbuilder.com or craigslist.org. That's because most jobs are not posted and if you take initiative that goes a long way in impressing a potential employer.
The easiest possible way to do this is through networking with people you know or simply cold calling businesses and asking if they ever hire for the particular position you're interested in. Calling is a much more active approach and sometimes even gets your directly in touch with the hiring source who may be interested in screening you over the phone. In my example below I was screened 3 times and even brought in for an interview.
Doing a little researching, I've found about 30 potential businesses I'd like to secure a job at.  Making this list is the easy part. My job search is obviously for more basic jobs at this point (bartender), but the same strategy will work for whatever type of job you're applying for.
To keep track of each job I've created an excel sheet that simply has the employer name, contact name, phone number, date applied, and notes. If you don't have excel on your computer you can use the free version on Google Docs.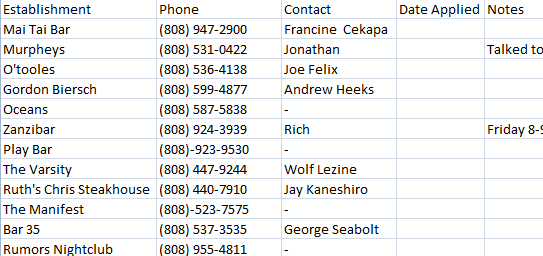 You can see I've gained a contact name next to several of the businesses on my list. That's because I called them up directly to get their name. This is what I say when I call up.
Me: Hi, my name is Ryan and I'm interested in applying for the position of _____ with _____, I was wondering who the contact person would be for this position and the best way to submit my application.
That's it!  If they say they're not hiring at this time still get the contact's name if possible. Do this so you stand out by being well prepared and addressing the person directly.
In my past experience I've seen that resumes are dropped into a pile that often go ignored. Addressing the correct contact for the job is essential. This is because if you give your resume to a person who you'll be competing for hours with, they have no incentive to give it to the proper manager or put in a good word. Having worked in the restaurant industry before, I've seen first hand employees toss resumes, so be sure it gets to the right hands. Calling ahead lets you know who it should be getting to.
So now that we've figured out what job you want, where to find that job, and who the hiring manager is for the job, the next step is to send in a cover letter and resume directly. Stay tuned for the next post about these two.
Sidenote – Back in Wisconsin deer hunting is a really big deal, hence the 30 point buck reference. There's even a song about hunting camps and the 30 point buck… which I've placed below for your pleasure. I don't promise that you'll like it, but it'll definitely be a cultural experience for you!! Enjoy!