This post is part of the Waikiki Site Series, in which I'll show you how to build a successful travel niche website from concept to reality.
If I simply build a Waikiki site it's not going to magically pop up onto the front page of Google every time someone searches. I wish that were the case, but it's not. Like in any business, we're going to have competition here. However, this is going to be online competition, which has many different characteristics than offline competition.
This is a pretty long post so it's divided into three sections:
Finding Your Competition
Analyzing Their Backlinks and Rankings
Questioning What You Can do Better Than Them



The competition is easy to find online. You simply type in keywords you have acquired by building your sitemap and doing keyword research when you found your niche.
As an example let's analyze our competition for the term "Waikiki."
Since Google drives the majority of search engine traffic online let's take a look at what pops up when we search for the term "Waikiki."
I would also recommend checking with Yahoo and Bing as well, just to see if there are any differences, but most likely there will not be many.
So we've found our main competitors online for the term "Waikiki."
Here are the results listed in order and my thoughts.
Hawaii Official Tourism Site – Gonna be hard to beat this one, in fact I'm quite doubtful.
Shack Waikiki – A local bar… why is this number 2?
Waikiki.com – My main competition, and one will will focus on analyzing.
Honolulu.gov – Government website, doesn't cover our topic.
Wikipedia – Front page as always!
Waikikitimes – Beach Cam, nothing more.
Aloha.com – Another travel website, but lacking in content.
Sheraton-Waikiki – An individual hotel, not a full guide.
Waikiki Aquarium – Self Explanatory.
**As a side note, notice that there are 4 images that show up on the front page.  This is important as we will especially focus on optimizing our images to rank well on the site (via alt tags).  I'll explore that in further posts as we're developing the site.
From the list above of the top 9 sites, only 2 are travel site related and are our competition.  Obviously we need to beat out the other sites as well, but that should be pretty easy all things considering.
Waikiki.com is our main competition here.  They're the only half decent site I've seen that has our same target market and audience.  They have a lot of similar content and they're ranked very well for Waikiki.


One of the main advantages the competition will have at first is a greater number of backlinks. Backlinks are simply links coming to their site from another site. I won't go into detail explaining the importance of backlnks and how they work, but think of them as other sites giving referrals to your site. If a very popular site gives you a referral it's much stronger than a small blog giving your a referral so each backlink has a different amount of strength.
I've compiled some useful tools that you can use to check for the competition's backlinks and to see how well they rank online. This will give us an idea of where we can also find backlinks and a rough estimate of how much traffic they get.
Domain Pop
The first tool we can use to check is a free service online known as Domain Pop.  Simply type in the domain you'd like to research for online competition and you'll be given the number of links and pages that are indexed on Google and Yahoo.
Not only that, you'll also be able to see what exact pages are linking to the competition.  Once you know this you can approach these sites to see if you can get yours linked as well.  It also gives you a concrete goal to shoot for – that is, shooting for more backlinks than the competition.
Alexa
Alexa is owned by Amazon.com and is a website ranking system.  Each website in the world is ranked by their service.  Nobody, besides them, knows exactly what goes into their equation, but the amount of traffic a site gets is a major indicator for a higher ranking.
Search Status Plugin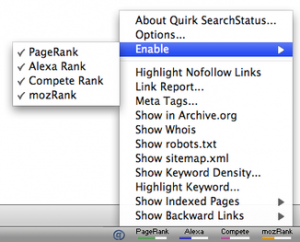 My personal favorite way to check for backlinks is using Google and Yahoo. You can download the Search Status toolbar for firefox, which will allow you to check for backlinks from Google and Yahoo for whatever page you're one. Simply click on show backward links for all domains and new windows will appear showing the Google and Yahoo's indexed backlinks.
For more information about how it works and to download the plugin visit the Search Status Site


Now that we have our target (Waikiki.com), let's consider how we can beat them. By beating another website we have to become more useful and relevant to the site topic… how can we do this? Here are 3 questions to consider when sizing up the competition:
1. What questions is this website not answering?
Does the site not answer particular topics that you would cover in this niche?
2. What Can I do Better?
Can you create better images, or maybe create video to go along with it? How about adding a free e-book or adding rating systems. There is always a way to improve, especially online, as technologies are constantly changing and adding new value to online users.
3. What's My Competitive Advantage?
You, have the ability to say whatever you'd like because it's your own site. You can tell people exactly how it is, which many people will enjoy because they want non biased information. If you build a site you can explain exactly how something works, which many corporate sites cannot. Often your competitive advantage will be your unique online voice and the experiences you've had which are unique.
Using these questions for my main competitor (Waikiki.com) I've come up with the following answers:
1. What Questions is the Site Not Answering?
It doesn't touch on real estate, it doesn't give opinions, ratings, or comments. It doesn't provide a lot of unique video or stories from the Waikiki area. There is no moving guide and no unique content other than a generic overview of the Waikiki area. Where are the best watering holes? Where can you get the best sushi? Where do I find the best deal on bikes? None of these questions are answered.
2. What can I do better?
Here are just a few of the many things I can do better than them.
Add a free moving to Waikiki Ebook.
Discuss Waikiki Real Estate and team up with a local realtor
Review each restaurant and bar in the area with video
Add a lot more video of the Waikiki area that doesn't feel like stock footage
Highlight unique things like street performers, the fireworks, and best eateries
Add a "getting married in Waikiki" section that is a one stop advice page
Provide more detailed content and advice in general
A Waikiki Facts and Questions section where readers can email me for advice
3. What is my competitive advantage?
I have the ability to be more creative, am not lured by creating a corporate site with a ton of obvious advertisements, and I can tell a story from the first person perspective, thus building trust with my readers. I can also create comments sections and provide my own story which many people could probably relate to.
So there you have it, an overview of how to look at your online competition. If there's something I haven't touched on feel free to let me know.
How do you analyze your online competition?