This post is part of the Waikiki Site Series, in which I'll show you how to build a successful travel niche website from concept to reality.
In the previous post I showed you how to research keywords to see if there was demand for your site idea. Now it's time to brainstorm and come up with ideas for overall site. This should be pretty straightforward. Simply think of concepts and ideas that are related to your overall site concept (in this case Waikiki) and type them into the keyword research tool. The tool will provide you with the most relevant search terms related to the word you typed.

This is one of the most important stages of the site design. Spend a good amount of time researching keywords and planning out your site. It will save you a ton of time down the road!
It's best to start with a broad search, like I did with Waikiki. This resulted in getting results like "Waikiki hotels" and "Waikiki restaurants" From these we can then get into greater detail by researching what the hotels and restaurants are, and building a page for each of those as well.
When building the layout of your site ask yourself "If I were new to this site what would I want to learn about, and how would I navigate around the site?" It's easy to get caught up in your own idea, but make sure that the site is teaching people something and offering value.
After spending a few hours researching keywords related to my site concept I've put together a basic sitemap. A sitemap is basically an outline or skeleton of the site. It's shows where each page will go in relation to the other pages.
I typically use a 3 tiered structure, which I learned from Site Build It. This makes it easier for your sight to be navigated by visitors and makes it easier for Google to read your site when it crawls. Building a site that links pages well between the whole site is easier to navigate.
Below is part of the sitemap I've created. This is only part of the overall sitemap. You can create it in a simple program such as notepad like I did.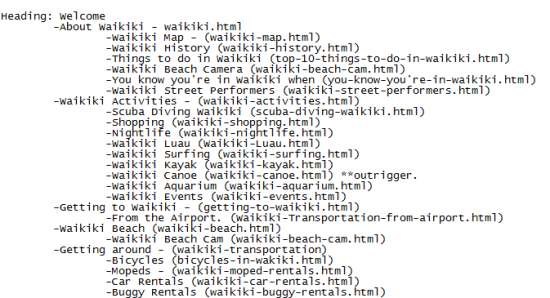 From this sitemap you'll see that there is a heading, which groups the tier two pages (the homepage is the tier one page). Each of the tier two pages will be located on the left column of the site for visitors to click on. Once on those pages, they'll have additional links integrated in that page, which will be tier three pages. For example, if a visitor wanted to know more about Waikiki activities, they would click on that link from the left column, then have categories on the Waikiki activities page such as Waikiki scuba, or Waikiki Nightlife. Behind each idea, I've also put the .html extension which is basically the most sought after keyword concept when researching for that particular idea.
I highly recommend you build a full sitemap
before starting to build this site. This will make your site much easier to build in the future because you have direction and purpose with where it will be going. You'll simply have to build content instead of planning out how the site will flow in the future. I also highly recommend you build it in a three tier layout.
The site is slowly coming together as we've searched for demand and are now putting search phrases into an actual site concept via a sitemap. Soon we'll be analyzing our competition, discussing how to make money from the site, and registering our domain.
Go back to the Waikiki Travel Site landing page to view the other site lessons.