This post is part of the Waikiki Site Series, in which I'll show you how to build a successful travel niche website from concept to reality.
I have a pretty strong feeling that people look online before coming to Waikiki for their vacation or move, but we're going to check for sure today, and I'm going to show you how. I need to make sure there are enough tourists and people moving to Waikiki to support my website otherwise it's pointless.
Where do I go About Researching for Demand?
There are two tools that I use when researching for SEO (search engine optimization) keyword phrases. I've included links to both below. One will require a download.
Wordtracker Firefox Plugin (you must have firefox browser for this!)
As you can see from the screenshot below both searches are on the screen. The wordtracker plugin is on the left as a toolbar and the adwords keyword tool is simply the page loaded in my browser.  Once you've downloaded the wordtracker plugin you'll be able to find it under the tools menu in the firefox browser.
The screenshot below shows results from both SEO tools when I searched for the term "Waikiki." The image below is a bit small so click on it and it'll load in a larger view on your screen so that you may see the results.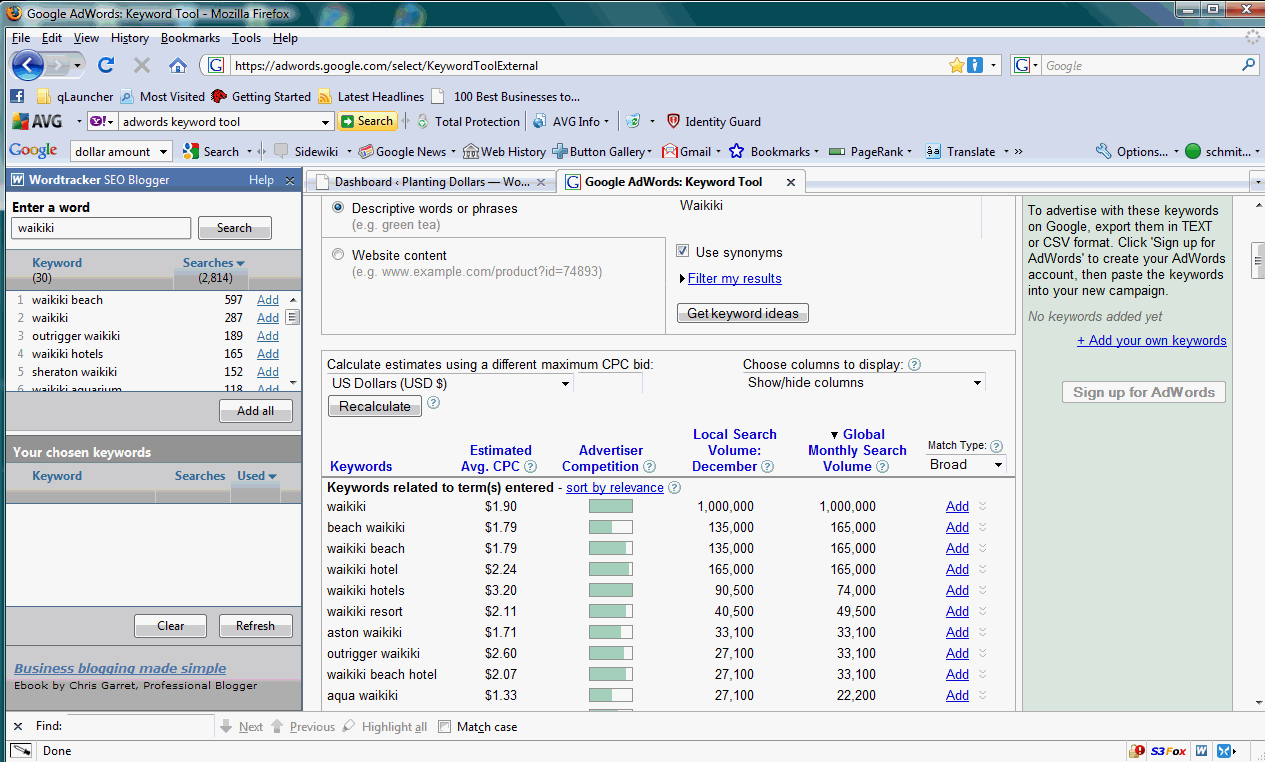 Is There Demand for my Niche?
We can see there is a significant demand for the term Waikiki. Wordtracker counts by searches per day and google does so by month. However, the Wordtracker results would only mean that 18.000 people a month search for Waikiki, while Google is telling us that 1,000,000 people do. That's a HUGE difference of about 982,000 searches!
So how do we interpret this data? Well obviously there's a huge difference here and I've read about it before on several webmaster sites. Basically take the wordtracker as the minimum amount of people possible coming to the site. If that's the case we could still build a significant site with 500 people searching for a term. The thing to think about is the conversion rate and how you monetize the site. You can have a very high traffic website that doesn't make any money or the opposite with a low traffic high income site. I'll discuss monetiation in the near future.
Realize also that I've only used "Waikiki" in the example, not additional terms like "Waikiki Hotels" or "Waikiki Restaurants." For those of you who aren't web savvy, words added onto the original keyword like I did with "Hotels" or "Restaurants" are called longtail searches.
So we know that we probably have enough demand here to build a site that has enough traffic. This is the first step in determining if it's even feasible to build the site.
So go ahead and download the plugin I linked to above and play around with search phrases. If you're really interested in learning SEO I recommend you check out Aaron Wall's SEO Book website.
Remember, we're building this site using Thesis theme for WordPress, but if you were using Site Build it, which is how I built my first sites, they would also include more comprehensive tools included with their package. Realize that I'm trying to build this site for low cost so we're getting what we've paid for… Free SEO tools.
When you build websites how do you track possible demand?