This post is part of the Waikiki Site Series, in which I'll show you how to build a successful travel niche website from concept to reality.
Last week we registered the domain and chose bluehost as our server host, this week we're going to go into the control panel and load wordpress onto your own domain, then we're going to upload the Thesis theme… this is the back-end nerdy stuff so I apologize that today isn't an inspirational post, but it is necessary for the building of the travel site.
We're going to do this in five steps which include:
Step 1: Install WordPress onto bluehost
Go to bluehost, which I recommended last week as your host… After you log in you'll see your control panel. Scroll towards the bottom and click on the wordpress button as shown in the image below. Then follow the instructions to install wordpress onto your domain. After this is complete you'll be able to log into your control panel online via www.yourdomain.com/wp-admin.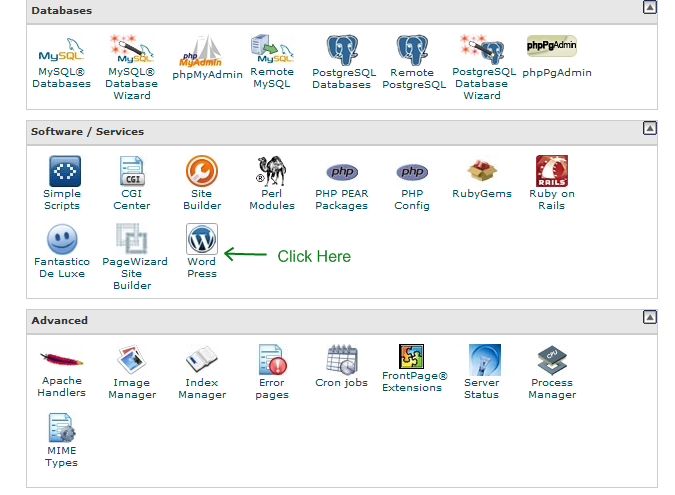 Step 2: Download Filezilla
Filezilla is absolutely free and is a program that allows you to transfer files from your computer to the servers where your website information is stored. It's a FTP (file transfer protocol) program.
To download Filezilla click here.
Step 3: Add your site information to Filezilla.
In order for filezilla to work properly it has to be able to connect to the bluehost servers. So once you've downloaded filezilla open the program via the icon on your desktop.
Here's a video that shows you how to add your domain to filezilla: watch video.
Step 4: Download Thesis
Next up we're going to download the template theme for the site. I highly recommend thesis theme and it's what I'll be using for the Waikiki site and is what I use for this site. It's highly versatile, has a lot of support online, and looks great (in my opinion 😉 ).
Follow the link below to download thesis and follow the instructions provided by DIY themes, the creator of thesis.
Step 5: Activate Thesis
At this point you should be able to login to your website via the wordpress login page which will be www.yourdomain.com/wp-admin. From there on the left column click on "Apperance" then themes below the Apperance button. Thesis should be one of the options so click on it and when it asks you to activate, click yes.
At this point your site will now have the basic thesis theme live and your site will be run with the wordpress control panel, which will make your life a heck of a lot easier.
If you have any specific questions about this process or feel I've missed a step feel free to comment below or shoot me an email.