The recession, lack of spending, unemployment, debt, foreclosure… are you as sick of these words as I am? Well if you want them to stop, go spend money and do your part in turning around the economy, duh silly! 😉 As consumer spending makes up a significant, but debateable percentage of the national economy it's not hard to understand that the fate of the economy is in large part in our own hands. Knowing that you have two choices, spend money and support the economy we know and love from the past few decades (big with lots of stuff) or enter the realm of frugal living, you're left to wonder… is frugal living bad for America?
Less Spending = Smaller Economy
We need other people to spend money in order to make money; Whether it's as a worker or the owner of a business. If goods and services aren't being traded the economy weakens since not as much is going on. Frugalists and miniamilists (of which I'd consider myself to be in both camps) are something that directly weakens the economy because they contribute less to the consumer spending side of the equation, thus decreasing demand.
Is Not Spending Unpatriotic?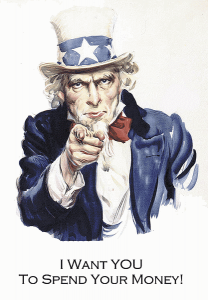 Since we know that less spending means a smaller economy it becomes apparent that in a country that values growth this doesn't exactly seem like the right thing to do. We want growth, we want more, we want year over year gains, but by becoming a frugal citizen you're taking a step backwards according to popular measures. Does this make you unpatriotic?
In response to the recession the US government has called for Americans to spend money to help recharge the economy. They've used stimulus packages and even offered $8,000 to purchase a home. It's simple to see that the American government wants you to spend money. It can be summed up like this:
Smaller economy = less tax dollars = smaller government = less money for politicians to spend.
I try not to get too political in this blog as it focuses on the individual rather than the political affiliation and taking responsibility for your own life whether you're a democrat, republican, independant, or whatever else, but it's just something interesting to think about. I'm not advocating a smaller (conservative) or bigger (liberal) government, but the implications of choosing a frugal lifestyle directly impact how the country's economy looks.
A Different America
I wouldn't say that frugal living is bad for America, but I would say choosing to live in a frugal manor helps shape the country one conscious spender at a time. A frugal consumer wastes less, they value the things they have more, and they often have more time to do the things that matter more than work (or time to do work they enjoy more than work they have to do to pay for their stuff). I think a society of people who think this way would be more beneficial than one in which one only measures success by more and the quantity of stuff rather than the quality of their life. By choosing to be frugal you are changing the dynamics of the economy, but as we've seen over the past few years the economy may not be all that perfect after all. Whether or not that makes you a good American citizen… well… that's debatable.
Do you consider frugal living to be something that is unpatriotic?
Do you support more spending and a big government or less spending and a smaller goverment (assuming tax rates stay neutral)?