As of today, Planting Dollars has been alive and well for 2 months, but it's growth has been more than I expected thus far. It's still just barely sprouting into the the giant tree it will be one day, but I'm happy that it's sprouting quite quickly.
As of today it's ranked 265,565 on Alexa via a 3 month average (even though it hasn't been around 3 months yet), it's one month average is 122,661 and it averages 212 visitors a day with 754 page views. Not too shabby for just 2 months!
So how'd it happen?
Before I started this blog I told myself I'd work on this blog a minimum of 3 years and that I wouldn't even focus on making money for the first year. As a result I'm focusing only on content and marketing. Currently I have goals of achieving 100,000 page views a month and an alexa rating of over 50,000 by the beginning of June this year.
Here are the main areas I've focused on.
Guest Posting
This has drawn a lot of traffic to my blog and also secured some backlinks on high ranking websites. Through guest posting I've been exposed to new audiences who've given me active feedback about my articles and through guest posting I've attracted new readers to the site. This is probably the most beneficial activity I've done thus far and something I'd highly recommend to other bloggers. If you provide a great guest post to another blogger they're getting great content, while you're getting a backlink and more exposure. Gotta love the win win situations. If you'd like to see where I've guest posted you can see a list on the archives page.
Commenting
The first weekend I started this blog I spent literally the whole weekend commenting on every blog on the Wisebread top 100 and other blogs I found through blogrolls as I went around the blogosphere. This alone has been a catalyst for active dialogue between other bloggers which drives the comments on this site. Also adding the Commentluv plugin and top commentors on the left column of this site was done so to encourage comments. I love comments!
Alexa Challenge
The alexa challenge was a great idea because it gives a concrete goal to shoot for. There's just something about numerical goals I love so watching my alexa ranking grow has been a great experience. You can see more about the alexa challenge here.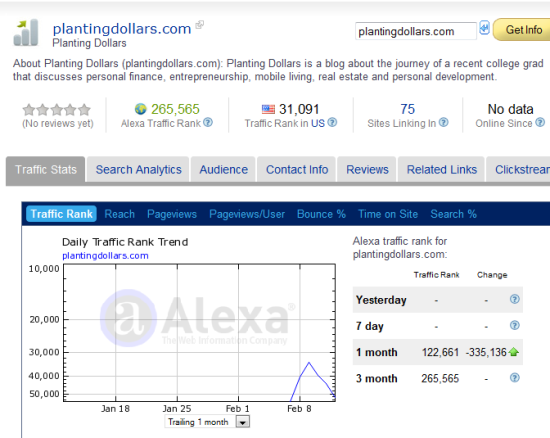 Emailing
Having dialogue with other bloggers has been fun and has also allowed me to pick the brains of bloggers who are much smarter than I am. Being young I still have a lot to learn and really appreciate those who have more experience than I answering my questions along the way.
Writing at least 1 post a day
I have a 1 post a day minimum on this blog and in the future will probably up it to at least 2 posts a day. This allows greater incentive to come back to the site since there is always fresh content and in the future will be beneficial because there will be more articles (with SEO) for Google to index and people to find in the search engines.
So there you have it. Basically I comment a lot, guest post a fair amount, and write at least one post a day that I try to make valuable to my readers. The results of these actions can be seen via the chart below which is from February 13, 2010: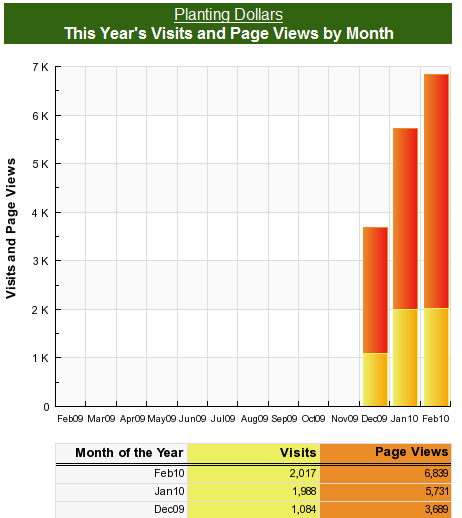 I've also poured a lot of myself into this blog which I think makes it unique. I plan to add a lot more information to the site and have enough content ideas to keep me going for several years no problem. I also appreciate the active feedback and comments from those who've taken the time to visit the site.
Thank you to everyone who's come to my site, actively contributed, and provided me encouragement along the way. It's only been two months, but it's been an awesome experience and I look forward to more growth, discussion, and feedback.
Image from Bonguri