Looking for a free budget sheet run with excel or open office calc? There are plenty online, but one of the most complex, and thorough budget sheets I've found as of late is over at No More Harvard Debt. If you haven't already been to the website, Joe, a recent Harvard grad paid off about $90,000 in student debt in well under a year and used an excel spreadsheet along the way to track his progress.
He offers the spreadsheet for free as a resource on his website. The excel sheet is very in depth, which I like because it covers things like:
Each expense line by line.
The percentage each expense accounts for in the budget.
Projected versus actual expenses.
Month by month comparisons.
Here's a look at the budget sheet, which as you can see, is clearly organized and colored great to make following the numbers quite easy.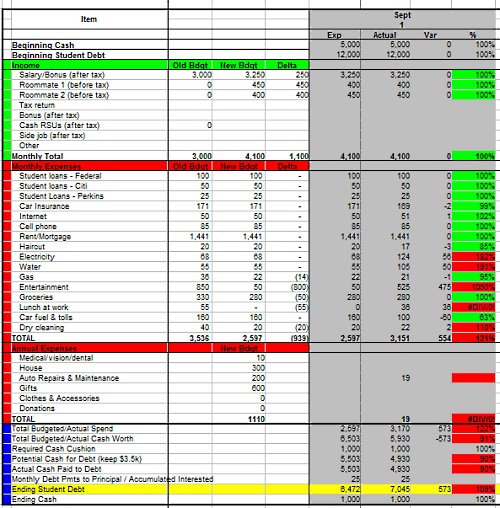 The excel budget sheet also has a net worth tracking section along with a graph that shows the relationship between debt and net worth, which is a great visual aid when tracking your progress. Numbers on a balance sheet aren't nearly as motivating as a graph shooting upwards.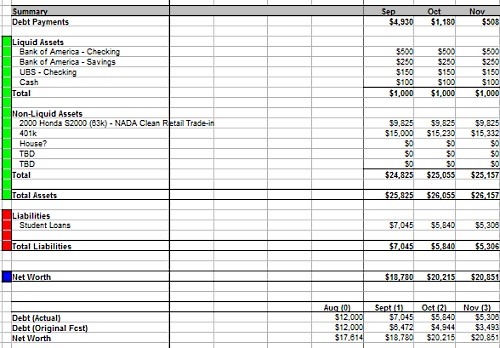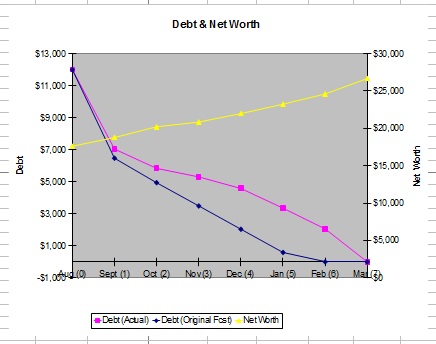 The budget sheet is free to use and ready for you to plug in your own numbers, so check out the free excel budget sheet over at Joe's site.
Do you know of any other useful excel spreadsheets that you've found online?