Yesterday I mentioned that I watched "In Debt We Trust." I think it's worth your while watching it, but a fair amount of it was spent interviewing people who had gotten themselves in credit card trouble. The thing I'm wondering is, if they'd taken a course in high school, or received some form of credit card education, would they really be better off?
Do You Need to be Educated about Credit Cards?
Do people honestly not know about the high interest rates and late fees associated with credit cards? Although there is a lot of fine print with your card the basic principal is that you're going to pay through the nose if you don't pay off your balance. I truly think that most people who end up in credit card debt do so because of horrible circumstances rather than poor choices (at least I hope). Things like medical issues, loss of a job (without savings), and other major issues probably come into play, so would education really help in these instances?
Waving Meat in Front of a Lion
I think the reason a lot of people get themselves in trouble with credit cards is because it's a lot like waving a big ol steak in front of a lion. Sure the lion could say that it's on a diet, but seriously, why wouldn't it eat it? Give a college kid the ability to spend $5,000 and don't be surprised if they do just that.
So are the credit cards to blame for waving a big ol' financial steak in front of our faces? Should they stop marketing to us and just let their companies die? Who's to blame for this? Since we're the one using the card, I have a tendency to think that we're the ones to blame. And by we, I mean all the lions trying to keep up with the Jonses.
A Credit Card Can be a Murderous Weapon or a Useful Tool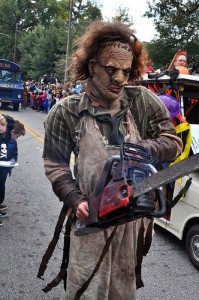 Credit cards can either be a blessing or a course, it really depends on which side of the pendulum you're swinging. For someone like myself who pays off the balance every month I love credit cards. They literally pay me to use their card (which makes me a "deadbeat").
However, for those who are late, don't pay in full, and get socked with high interest rates, credit cards are a murderous weapon.
The same could go for something like a chainsaw. A chainsaw is a great tool, because it saves a ton of time and makes cutting down trees a simple task. However, if you put it in the hands of the Texas chainsaw massacre guy (I'm not sure his name, do you know?) it's a murderous weapon.
Now I guess my point is… isn't it obvious that a chainsaw can be either incredibly good, or incredibly bad? Aren't credit cards much the same, and don't we all already know this?
What do you think? Is credit card education something that should be pushed more, or is it common sense?
Images from cleopold73 and cwsteeds