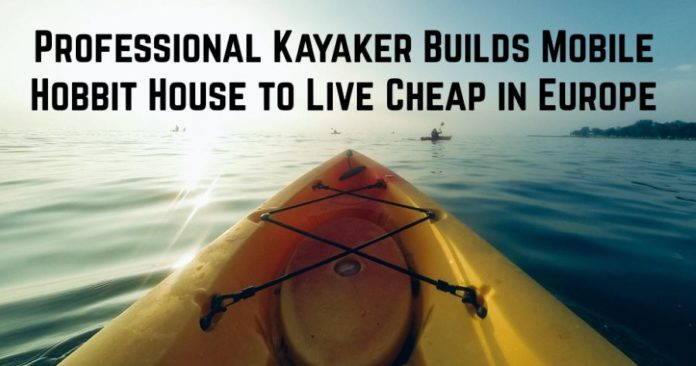 Check out this video of a Professional Kayaker who decided to build his own hobbit inspired van to save money while practicing for competition in Europe. Money was getting eaten up with hotel costs, so he decided to build the van, which according to the video took him about nine months to complete.
He said that his criteria for the van included that it had to be reliable, be more affordable in one year than what he would've spent renting an apartment and be comfortable enough for his own bed, kitchen.
Some of the sweet ways he customized his ride include the LED light system that works on remote control along with his awesome custom window inspired by French cathedrals, which took him 10 days alone to complete.
The costs he mentioned include (all numbers are in Canadian Dollars, which as of this post 1 CAD & .76 USD)
Truck – $2,000
Wood – $1,500
Appliances, Solar, Wind Turbine – $6,000
Insurance $3,000
He mentioned that the insurance was so high and difficult to get because he as not a resident of the UK and he had no previous driving record, which made him risky to insure, hence the ridiculously high $3,000 price tag!
I find this video inspiring because he wanted to get out of Canada to compete on a higher level, so he went to Europe where the competition was even better. Through making a money conscious choice he was able to better his situation while also chasing his dreams of becoming a better professional kayaker.
Do you know of anyone living in a creative space so they could better fund their dream lifestyle?