Today I'm adding more insulation to the basement of House #1. A friend in construction gave me extras from a site he was tearing down and would have disposed of anyways, so it worked out to my benefit. The insulation is being added to the exterior walls above the cement, but below the floor trusses. It's standard 16″ wide by 8 feet long strips that I'm cutting down with a utility knife in about 2′ chunks and placing in between the floor trusses along the outer wall of the basement.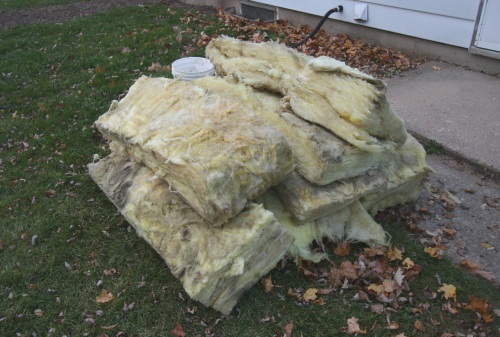 A pile of insulation ready to be cut and placed in the basement
A mask is recommended so you're not breathing in the insulation, otherwise you'll probably be hacking up a lung. You can buy some cheapo temporary masks (which I use all the time), or a respirator if you're very cautious. Since I already had a respirator, I'll use it. Don't I look great?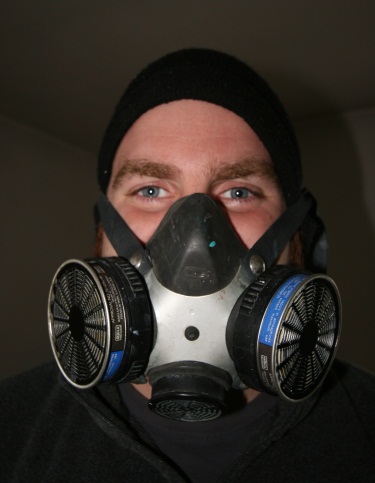 Although a foam spray insulation would be better as it would prevent any air escape, I decided it wasn't worth the investment and standard insulation at a cost of free, would be plenty, especially since there was no insulation prior. You can see the results below. Nothing too exciting, but should help keep the house a little warmer in the cold Wisconsin winters.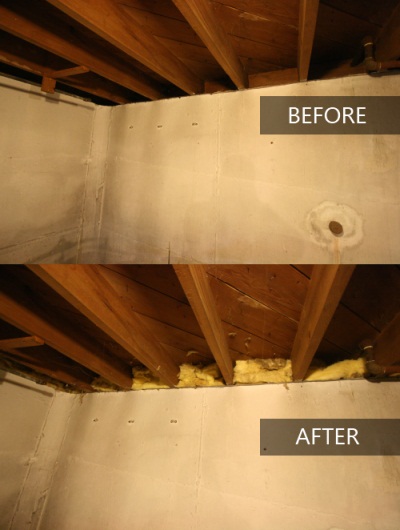 Project Breakdown
Estimated time of project: 2 hours
Estimated cost of project: $0
I realize the cost was cheaper for me, but you can occasionally find good deals on used insulation on craigslist, so I would look there first. For such a small amount it wouldn't be a very expensive project either way, even if you bought it brand new at a