The average US savings rate is something that hasn't exactly been a bragging point for Americans. It's been lingering around the zero threshold for quite some time, and has even dipped below in some, not so long ago, years. However, with the recession there has been some tightening of belts and savings rates have increased across the board. However, the average US savings rate is still pretty darn low.
According to the US bureau of economic analysis, the average US savings rate is lingering right above 5%, which means for a person that earns $30,000 a year they're socking away about $1,500. If a person was earning $100,000 a year they'd be socking away $5,000 a year, which is just enough to fund a Roth IRA for the year (this is also based off gross income). Simply put, if you wanted to retire anytime soon, you're not going to accomplish it by being average. In fact, average might mean you're just going to work til you die… which might be bad I suppose, but it's not my game plan.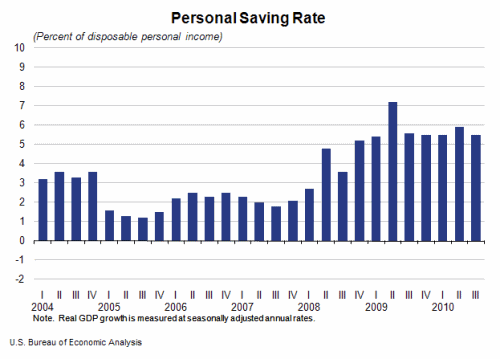 Source bea.gov
America, We Can Do Better
As a whole, I'm not impressed, I think we can do better, but I don't think we will. In a culture bent on spend spend spend I think it'll take an even larger shock to the economy than 10% unemployment to make people really change their average savings rate. Especially with Thanksgiving and Christmas right around the corner, how could you not help, but spend all your money! I know that the vast majority of Americans aren't personal finance buffs and don't spend their time reading personal finance blogs, but I think they should actively participate in saving a little bit more to possibly pursue a passion, which is possible when you're financially free.
What's an Ideal Savings Rate?
Based on the middle of the road investment strategy of saving 10-15% of your funds for retirement, I think the answer to my question would be, you guessed it, 10-15%, AT LEAST. This gives a solid foundation for a basic retirement at a standard retirement age. No get rich quick and no early retirement, but at least a secure future that you know you won't have to depend on social security to eat.
What's your average savings rate?
Do you think the savings rate will continue to hold around 5% or dip back down?