Alan Corey could be the reincarnation of the phrase "funny money" but in human form. His book A Million Bucks by 30
takes us along his journey to becoming a millionaire starting as a newly minted college grad making $40k per year and moving to New York City. Throughout the book we're greeted with the lessons he learned along the way, humorous situations he encountered, and how he dealt with the difficulties of being a "cheapskate" to make it possible.
Each chapter of Million Bucks By 30 starts out with a flashback from Alan's perspective that usually made me chuckle. For example when he describes starting his new job these were his previous thoughts:
"…I've really got to learn the name of this company. First two calls are asking if we sell auto parts. I'm pretty certain we don't. I mean, I hope we don't, because I'm telling everyone we don't. My boss is too busy to talk to, so I'm just winging it until I get in trouble."
The thing that makes this book unique and why I'd recommend it, especially to younger readers, is that Alan writes it from his own, human, unbiased experience. He shares exactly what he did, demonstrates that he's not a guru by any means, and makes the process of living below your means and building wealth seem fun and a bit of an adventure.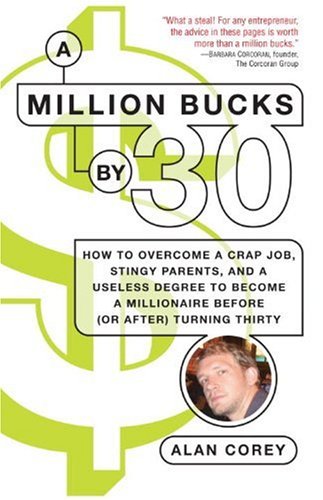 Some of the things that Alan did that I really enjoyed were:
He told everyone he was going to be a millionaire before 30. Although he got laughed at by friends and family, he had the determination and will power to go out and do it anyways.
He persisted towards his goal even though he didn't have a clue how to achieve his goal. After each step he learned what he had to do next and was fine not knowing everything from the start. The lesson here is to take action and learn as you go, it's the only way you're truly going to learn.
His "Extreme Cheapskate Strategies" which sprinkled each chapter and provided quick tips on how he was able to save money, which included things like not drinking bottled water and how to check your credit report for free.
He talked about dating and being a cheapskate, which is fairly rare in personal finance books. Although it is a challenge to find someone with a similar or accepting perspective Alan talks about his experience in dating while working to be a young millionaire.
Million Bucks by 30
is a quick read that I'd recommend to anyone as it has a great way of humanizing becoming a millionaire while gaining a few laughs along the way. Alan wasn't a guru who had any magic secrets along the way, however he worked hard, persisted, and committed himself to learning how to become a millionaire before the age of 30. Hopefully after reading this book you'll realize that you can do the same.
To learn more about Alan Corey and his book check out his website at Alancorey.com.
I'm giving a copy of this book away so in order to qualify simply leave a comment below (make sure your email address is in there) and tweet this post. I'll randomly select the winner by early next week.