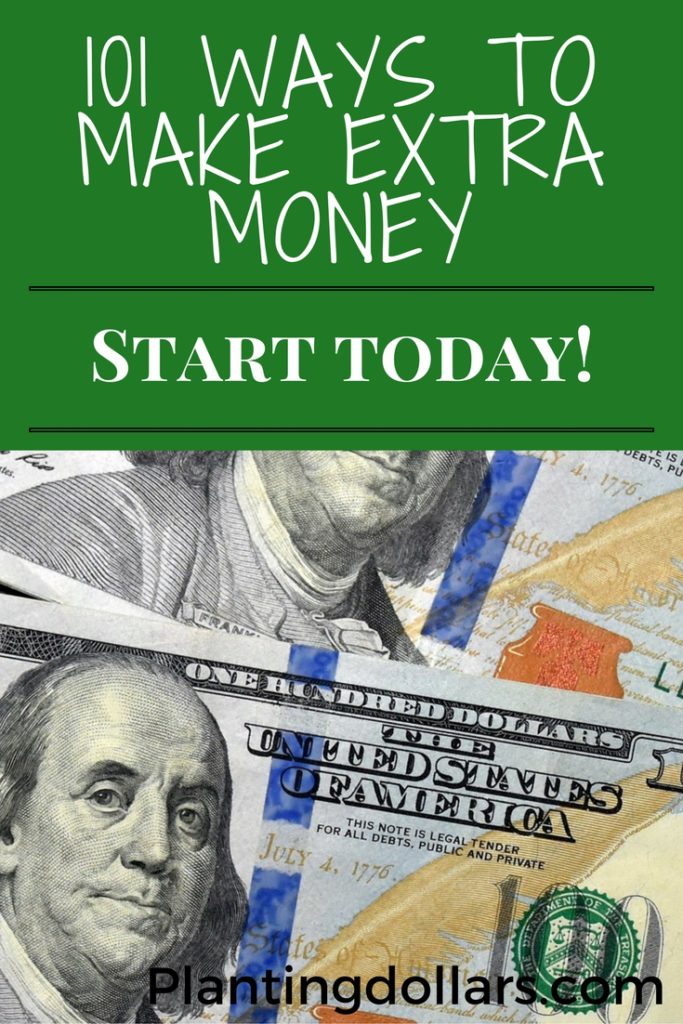 Strapped for cash and wondering about ways to make extra money? I've created a list of over 101 ways you can make extra money easily, and within the next week if you really are motivated. If you can't find something on this list that fits you, you might just be a little too picky, or if you know of another great way to earn some extra revenue, please share it in the comments below. If you're willing to hustle, try new things, and get out of your comfort zone there are plenty of ideas here for you. No matter the status of the economy there are always opportunities and ways to make extra money.
1. Start a blog – Read this post about creating an online business with a product I truly recommend.
2. Write articles for Websites that Pay – You can make money simply writing about what you know at popular websites including Hubpages, Squidoo and several others.
3. Take Surveys – Websites such as Cashcrate will pay you money to participate in surveys. It's free to sign up so why not?
4. Write Article for Other Blogs – If you're interested in particular topics you can write on niche blogs about your hobbies. For example, the personal finance niche has plenty of blogs that will pay you to write including moolonomy and wisebread. Darren over at Problogger.net also has a great area where blog writing jobs are posted.
5. Produce a Youtube Video – By displaying ads on your video through the Youtube monetization program (which is free to sign up for) you can easily start making more money. Here's a great post on how to make money on youtube.
6. Build Websites – Are you a bit tech savvy and think you can create websites? You can either create create a website for other people, or build affiliate money making sites yourself. To see example of people making real money by building website check out this page.

7. Computer Programming – Most computer programming languages are free to use and are often learned through doing. With so much information online you can easily teach yourself a programming language. Heck, I taught myself out to create websites without any books or teachers. Once you know a certain programming language, jump over to a site like elance.com where people post jobs you can bid on.
8. Look Down When You Walk – Believe it or not there is often change on the ground. It's worth your time to pick it up and eventually it'll grow in your change jar.
9. Be a Street Performer – If you live in a touristy area there may be potential here. When I lived in Honolulu street performers included musicians, artists, and guys who pretended to be statues.
10. Mow Lawns – One of the oldest money making ideas on the list, it still works. Although wages have gone down, I met a guy who saved up lawn mowing money over his childhood and used it as a down payment on a house when he graduated college!
11. Wash Windows – Find enough businesses who need their windows clean and this could be a budding full time business. Equipment is minimal, you'll just need your time and no fear of heights!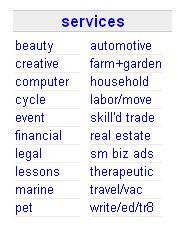 12. Visit Craigslist – Craigslist has a services offered section (where you can get ideas), and a gigs section with postings for short term work that other people are willing to pay you for.
13. Help People Move – Moving companies are expensive, and even if someone pays you $15 an hour cash to help them move, they'll still be saving. Offer your services on craigslist or the paper.
14. Clean Houses – Cleaning houses isn't really all too bad of a gig. Pay is decent. Market towards luxury homes or professionals without much time.
15. Shovel / Plow – If you live in a climate that has snow in the winters consider offering shoveling services, or if you have a truck, you can buy a plow and do parking lots for local business or apartment communities.
16. Walk Dogs – This job may be harder to come by. Advertise at local pet stores if they let you hang flyers.
17. Pet Sitting – A popular job, this one is usually found via word of mouth. You may also want to advertise at pet stores and let it be known where you work that you're interested in pet sitting.
18. Property Management / Leasing Agent – You can either start a business managing properties (you'll need your real estate brokers license) or look for a job as a leasing agent with an apartment community in your area. Leasing agent jobs can usually be had on nights and weekends when people after work are looking for places to live.
19. Real Estate Wholesaling – Essentially you're a bird-dog for investors looking for specific types of properties, usually distressed. Find investors and ask them what they're looking for, then find them deals. If the deal closes you can charge up to $1,000 as a finders fee.
20. Recycle Scrap Metal – I know a few guys who do this full time. Finding old things that people don't want and scrapping them is a solid way to make some extra cash. To find out how much metal goes for call your local scrap yards to get a better idea of how lucrative it can be where you live.
22. Seasonal Retail – During the Christmas season malls hire a ton, and during the springtime stores like the Home Depot and Lowe's go into busy mode so they hire seasonal workers during that time as well.
23. Rake Leaves – It's a lot easier if you have the right equipment, but a good workout if you just have a rake. Offer your services to neighbors and the elderly when fall rolls around.
24. Envelope Stuffer – Do any local salespeople need help with their marketing materials? You're not going to get rich doing this, but the job may be cash if you can find one.
25. Tree Removal Service – You'll need a bit more equipment, depending on the size of the tree, or you may want to just find a job with a crew.
26. Find unclaimed Money – Jason at Onemoneydesign.com has a great post about where to find missing money. You may have unclaimed money sitting out there that you don't even know about.
27. Fiverr – A website that lets you buy/sell anything for five dollars. Check it out to see other ways people are making money on fiverr.
28. Curbside Treasures – Find out what day of the week large trash items are picked up in your city, then go for a drive in the neighborhoods. I've got some great furniture doing this since some people are too lazy to donate it and have simply upgraded even though their previous furniture was fine.
29. Buy and Re-sell Goods – Thrift stores and rummage sales are a great way to do this. Some people I've seen have made up to $1,000 a day re-selling items on ebay that they buy at Goodwill. What a great way to Make extra money!
30. Sell Your Old Stuff – Get rid of a ton of your old stuff and consider living a bit more minimalist. Perhaps hold a rummage sale, or sell individual items online.
31. Re-Sell Golf Balls – Whenever you're on a golf course or near one be on the lookout for golf balls that have gone even beyond the rough. Turn them in for cash.
32. Buy Low, Sell High – Buy something local that you know is cheap and sell it online for a higher amount. My sister does this with big ticket items by buying them cheap at thrift stores and re-selling them on craigslist. She's made several grand just doing this on the weekends. The key, of course, is knowledge of the true value of an item.
33. Black Friday Line Sitter – Are your friends working on black Friday, but want to buy something because of an amazing deal? Offer your time (and risk of death) as a service and split the difference.
34. Sell Old Gift Cards – According to consumersunion.org 27% of gift cards aren't used in every year. There are even websites that buy the gift cards from you, and you can also buy gift cards cheaper there as well. Check out plastic jungle for more info.
35. Sell Old Clothes – Places like Platos Closet or Style Exchange will give you cash for name brand clothing.
36. Sell Old Video Games – Gamestop, best buy, or other locally owned places will give you cash for your old video games and systems. If you're working hard towards your financial goals, maybe pick up a second job instead of sitting in front of the tube.
37. Sell Art – If you're an artist and have a unique way of expressing yourself consider taking part in craft shows, farmers markets, and any type of event in your city where you can show off and sell your goods.
38. Collect Soda Cans – Depending on the state you live in, cans are worth 2 to 15 cents. That can add up for just picking up something off the ground. Consider stopping by after festivals or major events where cans are littered everywhere.
39. Teach Piano Lessons – Or any music lesson for that reason. Local schools and music stores are a great place to connect and market yourself.
40. Tutor – MD over at Studenomics has a great article about his friend who made $2,100 from tutoring which is worth a look if you've got some knowledge you'd like to share.
41. Sew or Fix Clothing – A seamstress is always in demand. You could focus exclusively on brides, or perhaps prom dresses and see if local dress shops need any help.
42. Babysit – A classic popular money making idea for kids. Hang flyers, hit up the neighbors, and find kids who need some sitting! One of my friends who recently had a baby stays at home and also takes care of other children to supplement her and her husbands income.
43. Resell for Others – Be an ebay reseller for friends or family. There's local shops around town that do this where I'm from, but you could lease a small retail store and do the same.
44. Musician / DJ For Hire – Can you perform for weddings, birthday parties, or other functions? You don't even have to be talented at an instrument if you consider offering DJ services to these events.
45. Ticket Re-Selling – If there's a popular concert that's going to be sold out, wait in line to be first, then re-sell the tickets for a profit.
46. Deliver Phone Books – Although phone books aren't as popular as they used to be, each year seasonal workers are hired to deliver phone books door to door. I did this one year in college and was paid based on the number of phone books I delivered. You can contact the local phone book companies directly to ask when there are open jobs or search online.
47. Assemble Furniture – Whether it's for a furniture store or a friend, if you're good at putting things together or like puzzles, offer to put furniture together for other people.
48. Build Cabinets – Cabinet building can be pretty lucrative if you know what you're doing and have some of the right equipment. You have to be patient, have a workspace, and some upfront capital to buy your supplies, but if you know how to market yourself this could become your day job if you really wanted.
49. Fix Computers/Technology – One of my college buddies pulled in a grand a week simply helping people fix computers. Kinda like Best Buy's geek squad, he would do home visits and fix problems that were essentially easy to him, but harder for people who weren't very computer literate.
50. Re-furbish Furniture – You can go to local thrift stores, pick up dilapidated furniture, or even get salvaged materials for free, and turn it into furniture. For example, you could make pallet furniture from free pallets. Creativity is the only thing that limits you here.
51. Create an App – Some kids are making six figures making apps for the latest phones. Check out this interview on NPR for a bit more information.
52. Sell Flowers – If you've got a yard or even extra room in your apartment you could raise flowers and supply them to local florists. I'm guessing it'd be easier to pick a certain breed that's in high demand and harder to come by.
53. Sell Fish – Ever heard of aquaponics or aquaculture? You can raise fish either for consumption or profit via fish farming at home, or by raising breeds that are kept by aquarists. The Cichilid breeds seem to be a popular choice for breeders, at least in my neck of the woods. Although it doesn't net a lot of extra money, it can be a fun hobby that pays for itself.
54. Caddy – Golfers don't always like carrying their clubs and if they're not using a cart you could be the lucky one carrying their clubs!
55. Sell Produce – Turn your hobby (gardening) and unused backyard into a money making machine. Farmers markets are a great place to not only stay healthy, but make extra money.
56. Tax Returns – In late winter and early spring folks need their income taxes prepared with hope of a tax refund. If you have experience in tax preparation consider advertising your services. If you don't have experience consider trying to work for a company like H & R Block first to learn the ropes.
57. Virtual Assistance – Offer to be a virtual assistant to save busy professionals time, and money. Check out elance.com to find work.
58. Invent / Create – If you've got an invention idea, why not consider making a prototype and marketing it? This could include patents as well.
59. Take Pictures – Websites like istockphoto.com and shutterstock.com will give you money for your stock photos.
60. Network Marketing – Although I have mixed emotions on network marketing it has worked for some. Just make sure you actually believe in the products that are being sold rather than just trying to make a quick buck.
61. Life and House Organizer – A lot of people are super disorganized. I'm sometimes guilty of that myself. Offer to be a professional organizer to clean their closets, organize their rooms, and even help them with time management.
62. Masseuse – I drive past a sign everyday on my way to work that says "special $45 hour massage." I'm not sure about you, but that's a pretty good hourly rate, especially for some extra spending money. I'm not sure if you have to be licensed, but if you don't have to, do most clients ask for credentials?
63. Photographer – Try going into a niche which may include real estate photography, senior photos, or wedding photography. Specialization is key.
64. Bake Desserts and Sweets – Always a hit at craft sales or as a way to possibly get your recipe picked up by a supplier, baking desserts. Dream big, think like Mrs. Fields!
65. Enter Sweepstakes – By doing a simple internet search you can find tons of sweepstakes to enter that are completely free to sign up for. My friend won a trip to a ranch in Montana simply by doing a free sign-up.
66. Hair Stylist – You may need to go to school for this, or you may just be able to practice a lot on friends. If you're good enough through practice, rent a chair at a salon and build your client base.
67. Teach a Specialty Fitness Course – Zumba, Spin, P90X, or Yoga are all popular right now. Become an expert in one of these and teach a class while staying fit.
68. Coach Sports – Whether it's soccer, basketball, football, baseball or whatever sport the school offers consider being a coach. Coaches often get paid several hundred, or even thousand depending on the level, size of the school, and interest in the program.
69. Movie Extra – When I was living in Honolulu several of my friends got to be on the set of "Pirates of the Carribean as Extras" and made a few bucks in the process. Keep your eyes peeled if any films are coming to your town and if they are seek out ways to be an extra.
70. Make Jewelry / Accessories – If you're interested in designing and selling jewelry or accessories, check out the site etsy.com for ideas and for a place to easily sell your products. One of my friends does this and specializes in feather accessories, you can see here story on etsy here.
71. Deliver Cars – I've met several guys who get paid to transport cars across the country. They often are owner/operators, but get paid handsomely and aren't always on the road, but work on an "as needed" basis.
72. Bike / Truck Delivery – Local delivery and courier services hire bikers in big cities and truck drivers to deliver packages. You could start with the big boys including UPS and FedEx.
73. Roofing – This is some of the hardest manual labor out there, but ripping off and installing roofing can pay pretty well, if your back can handle it.
74. Be a Referee – Rec league refs get paid a decent amount to make sure athletes are playing fair. Check with your local community offices to see if the parks and recreational department need help.
75. Singing Telegram – A specialized service, if you've got a good voice start a business performing singing telegrams.
76. Design Business Logos – Peter over at Biblemoneymatters.com also does a side business of this type. His site is logosforwebsites.com. If you have Photoshop you can easily teach yourself how to design logos by watching youtube instructional videos.
77. Nightclub Bouncer – Got some muscle? Stand in a doorway, check ID's and make some cash.
78. Work More Hours – The easiest way to make extra money could simply be asking for more hours at your current job. However, this may get a bit boring and you may feel like your whole life is spent there.
79. Deliver Newspapers – This is a dying profession, but if you want to wake up before the crack of dawn and work alone, delivering papers could be your thing.
80. Deliver Pizzas or Sandwiches – If you've got a car, decent driving record, and don't mind a free slice of pizza every now than than, you could deliver pizzas. In order to pay off debt, personal finance blogger Jeff, at Deliver Away Debt shows how much he earns delivering pizzas. It's not too shabby.
81. Waiting Tables – A very common way to make extra money. Many professionals moonlight as waiters and waitresses to pay off student loans or make some extra spending cash.
82. Bartending – I was a bartender for about four years. During that time I made anywhere from $15-$20 (on average). The key is volume so try to find work at a restaurant or bar that has plenty of customers. If you're personable, don't mind working on your feet, and know quite a few drinks, this can be a really fun job and way to make extra money.
83. Car Valet – An evening or weekend job that anyone can handle, well, at least anyone with a clean driving record and the ability to drive stick shift. Valet jobs are easy to come by, but you'll have to earn your tips.
84. Driving Range Cart Driver – A classic job that I wouldn't mind having, go to all the local driving ranges/golf courses and see if they need a guy to drive the truck. You can probably get some audio books completed or listen to music while you're working. Not a bad gig.
85. Secret Shopping – Many times you'll be paid in gifts rather than cash, but secret shoppers allow businesses to gain an outside perspective on how they're doing. To find secret shopper check out this site.
86. Senior Care – With the growing generation of baby boomers retiring there is an upswing in demand for senior care. What does this mean? Home health and related jobs are going to become more abundant. If you like working with the elderly this may be a way to combine your passion and make some extra money. To start you may want to consider getting your CNA, and seeing how you like it before getting a full on degree.
87. Special Events Usher – Contact your local performing arts center to see if they have any openings for events.
88. Public Notary – Notaries are valuable for giving legal documents merit. To learn more check out how to become a notary.
89. Taxi Driver – I always thought that this would be an interesting job since you get to meet so many different people, but they pay isn't amazing. The best perk would be the flexibility of the job, but you'd have to live in a bigger city.
90. Car/House Advertising – Ever thought about turning your car into an investment rather than a depreciating asset? Advertise on it! I've also seen this done with houses, but you'd probably need to be on a busy street for it to work.
91. Medical Testing – If you're willing to take the risk (I'm personally not), medical testing is a way to earn fast cash without needing to have any skills whatsoever.
92. Rent a Room – Or get a roommate in your current apartment. Have someone else make your rent or mortgage payments for you so you have extra money to pay your other bills or invest.
93. Sell Plasma – Selling plasma can make you a couple hundred bucks a month. A friend of mine in college did this and paid for his books every semester with his blood.
94. Store Boats/Cars – If you've got extra space in a large garage or barn consider letting people store their boats, rv's, or cars for cash to protect them over the winter.
95. Lemonade Stand – You may feel a bit ridiculous doing this if you're over the age of 12, but if you're young, it's how many entrepreneurs got their start. And inventory is really cheap!
96. Start an Etsy Store – Whether you can sew, draw, or even make wood pallet art, the options are limitless if you use your creativity.
More great resources for making extra money
Ramit and I will teach your how to be rich teaches a course on how to make $1,000 a month extra money.
97. Special Events Parking – If you live near a sporting venue, or popular event center charge people to park in your yard. Where I live, in Green Bay, people charge up to $20 near Lambeau Field during Packer games.
98. Open up a Checking Account – Many banks will offer up to $125 free money, just for signing up with them. I recently got an offer from Chase for $125 via snail mail that offered just that. However, you'll have to keep the account for a certain period of time, meet account minimums, and usually set up direct deposit.
99. Refer a Friend to Your Bank – Refer friends and you could get up to $50 from a bank just for sending them new accounts. One of my banker friends once told me of a deal they had coming up and I shared it on Facebook and got several friends to sign up, which netted me a few hundred bucks.
100. Help Your Friends' Dating Life – If you become a referral of match.com you could make $25 for every new sign-up. In order to sign up for the program check out their website or simply search for "match affiliate program" on Google.
101. Stadium / Event Workers – Working the concessions or sales booths at major sporting events or concerts is a way to make some extra cash. During Packer games during college I would sell soda as a vendor that walked up and down the stands. It was hard work, but I'd make some extra money that could pay a good chunk of my bills that month. If you're old enough beer vendors at stadiums seem to make the most money.
Bonus!!! Extra Ways to Make Money!
102. Employer Match 401k – Although it doesn't go straight to your pocket, if your employer offers a 401k match, it's essentially free money. Take advantage of it by fully funding your 401k. You'll thank yourself later.
103. Flip a House – If you can buy a house for cheap (think a foreclosure) and fix it up, you'll be able to pocket the difference. I only advise doing this is you're comfortable with the whole process and have plenty of savings to cover the cost, but it can be pretty lucrative.
104. Affiliate Marketing – When you've built a website you can then promote products of others and make a commission when you sell something. One of the biggest affiliate marketing programs is through Amazon.com which lets you promote anything on their site.
105. Try Uber – A new service allowing drivers to utilize their cars as a taxi service. Here in Green Bay Taxi drivers can make steady income, but I haven't spoke with anyone in particular about their experiences with Uber.
Online filing companies like www.sundocumentfilings.com can assist you with any legal requirements or questions you may have.
You can also check out the book 101 Weird Ways to Make Money via Amazon.com.
I also run a website that teaches people how to create a website that will allow you to market your services / product easily online. If you can market your products online you'll have a huge leg up on the competition. It's like having a huge yellow page ad for cheap!
So there you have it, 101+ ways to make extra money. If you have more ideas, or want to share your experiences with some of these ideas, feel free to comment below.