What kind of hobbies do you have? Do you go fishing, perhaps you enjoy underwater basket weaving, or even skydiving? Each of us have hobbies, but how can we use those to make us more money? I'm not going to tell you to start an Online Business with your hobbies (although you could and make substantial money writing about them), but I will mention that your hobbies are what make you completely unique compared to many other people. Using these hobbies to stand out will make you a lot more money than keeping them in the closet.
A lot of business professionals bombard customers and clients with "I'm the best, I'm the coolest, smartest, brightest (insert business). I sold 500 Ford trucks last year, I sold 300 houses," and on and on and on… Nobody really cares how successful you are (besides you of course), they only want their own problems solved and frankly they're only going to remember something that's… well… memorable. So as an entrepreneur how do we do that?
At the end of the day, people are people, and they remember stupid shit – I'm not above this either. Did you watch the Super bowl commercials recently? 99% of the ads didn't have a whole lot to do with the products themselves, but they were often memorable because they were funny, entertaining, and different.
A real life example of using hobbies to make more money
There was a Realtor who lived a few blocks away from my house where I grew up. She had a big dog (I'm not sure the breed) and she absolutely loved the Green Bay Packers. So what did she do? She used her dog and the love of the Packers as her brand.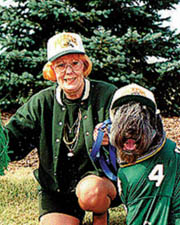 I did a little digging online and this is the picture she uses on the calendars, her business cards, and every other promotional piece she sends out. Of course the outfits change for different holidays and annually, but it's always her and that dog wearing something festive and more often than not Packers related.
What can we learn from the big dog and the Realtor? I'm writing a post about this years after I'd originally seen her marketing, but she stuck out in my mind because she was so different. She sold a ton of houses in the neighborhood where she advertised because everyone knew who she was. She was the Packers dog lady! It can be the dumbest thing in the world, but if it's different, people will remember it.
How Am I using this?
If you are new to the site, you'll start to notice the theme here as I've talked about it in several of my posts. What's the theme? Shark diving and my passion for sharks. One of my dreams is to become a shark photographer so I'm going to continue to tie that in with this site.
Within the next two years I'm going to have a few successful websites. This one and the Waikiki site I'm building will make me full time income. All they will require is my laptop, which I can use while diving around the world with sharks.
At that point my personal finance blog will become even more about sharks (I'll upload videos) and who's going to forget the personal finance blog that not only talks about money, but also sharks! There are sooo many websites talking about money so the way to stand out is to be different. I don't see many shark diver personal finance blogs… Even after reading this post you're probably more apt to remember me over other bloggers because I mentioned something unique other than entrepreneurship and personal finance.
To Conclude:
If you have a business, why aren't you mixing your hobby with it? Mixing your hobby will give you more brand recognition and people will actually remember you because you're DIFFERENT than all your competitors. You'll also automatically have loyal customers who enjoy the same hobbies as you since they have something in common with you. The trick for me, however, is to find people who love money and shark diving!
What hobbies do you have that you could leverage into your business?
What branding have you done to separate yourself from everyone else?
Images from Alfonsator and Pacific Klaus