Although creating a budget is fairly easy, much like creating goals, it's much harder to stick to your budget in the weeks, months, and even years that follow. Although it is a challenge there are some ways that you can increase your chances of sticking to your budget which include:
1. Write it Down
Anyone serious about budgeting knows that you're not serious about your budget, unless it's written down. Of course it doesn't have to be with pen and paper. You can use free online personal finance software, such as mint.com to generate your budget and track from there, but in order to stick to your budget, you need to be able to reference it and see it often. Once it's written down you should check it often (hopefully daily).
2. Create Reminders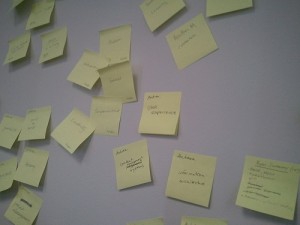 Positive reinforcement through reminders is a great way to stick to your budget. This may be simple like creating written reminders on your fridge, a poster in your room, or possibly a bracelet or rubber band on your wrist as a constant reminder about your budget. By thinking about your budget more, you're more likely to stay the course and not waver.
3. Hold Yourself Accountable
Holding yourself accountable is critical in sticking to your budget. You can do this by sharing your budgeting goals with your significant other or family and friends. You can then check in with them weekly to share your progress and demonstrate your success. This is, of course is only if you're comfortable enough with others to share your personal finances, which are after all, personal.
If you want more accountability you could also consider something such as a debt support group online via forums where you can post anonymously so you feel more comfortable when discussing your debt.
4. Reward Yourself
It's been proven that people are motivated more by positive reinforcement rather than negative reinforcement. Let's face it, following a budget, at times, isn't exactly the most fun thing in the world. It takes sacrifice and commitment along with a whole lot of will power. So how do you continue to act with discipline? By rewarding yourself.
Rewards can be simple, but should happen fairly often to create a pattern. For example, you shouldn't just give yourself a reward after you've followed your budget for a year. Rather consider giving yourself a weekly, monthly, and yearly reward system that increases in value in relation to the length of time you've stuck to your budget.
Weekly budget rewards may be something simple like a nice lunch or going to a movie, but even small rewards provide incentive that makes you last through the week. You can also plan for these rewards within the budget itself.
These are just some of the ways you can stick to your budget a little easier.
What motivates you to stick to your budget regularly?
Image from flickr